Simple Henna Designs 2022
Are you searching for the Best henna designs for Eid 2022? Here's everything you need! As you know, mehndi (Henna) plays an essential role in dressing up oneself. It is also a particular part of Eid makeup and has its value. Eid is imperfect for all the girls and even the kids without Mehndi. Henna has long been a part of Asian, Arabian, and African traditions, but it has recently gained fame in Western societies. It gives mehndi design a new shape, such as white mehndi or tattooed mehndi, distinct from the traditional mehndi we all know and love.
Fashion trends are speedily expanding, and mehndi designs are becoming extra delicate and graceful. Girls currently do not like the mehndi designs of the past, which hide the beauty of their delicate hands. In this informative guide, we have gathered a collection of Best Henna Design for Eid 2022 that will glow on your hands at chaand raat (moon night) and give a beautiful look to your hands.
Top Henna Designs Types for Eid 2022
Here is the list of some best Henna designs for Eid 2022 that will make your hands and feet look prettier for this lovely event and add more to your beauty.
1. Shaded Henna Design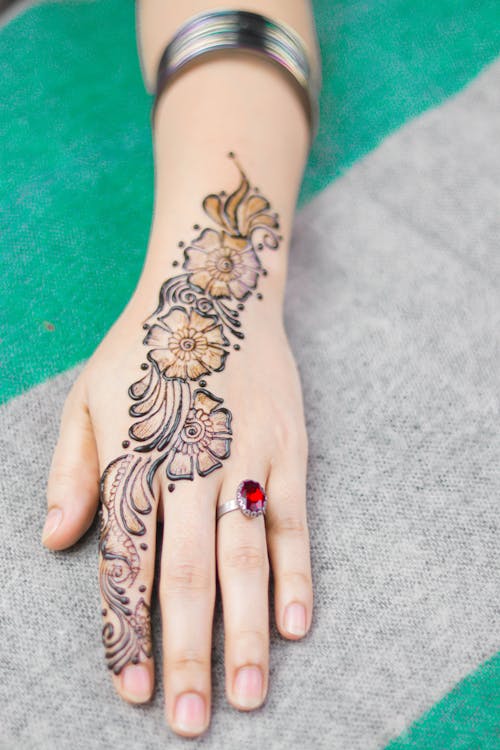 One of the best henna designs is the Shaded henna. Nowadays, this henna is in trend. It is the most popular design girls like to apply in several functions. Whether it is a marriage or home entry, this design looks great on one's hands!
2. Arabian Mehndi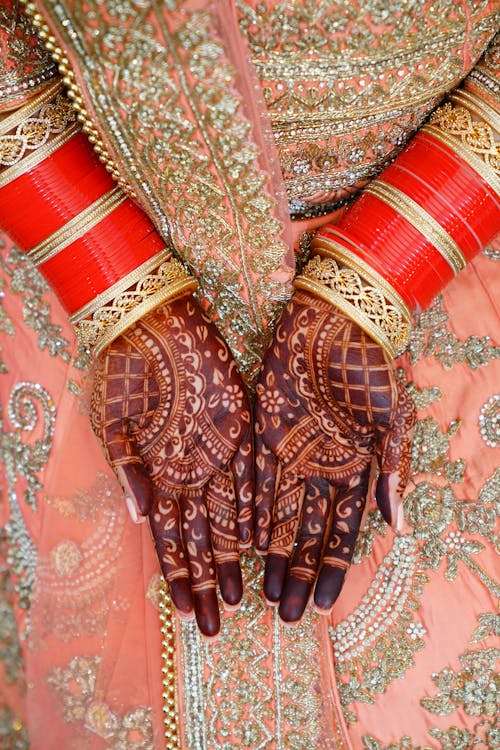 Whatever the occasion, most girls love to apply Arabian mehndi design. This mehndi style and shades go well with conventional dresses. One of the best things you can do is make the shading designs within the mehndi. It will make your henna look more attractive.
3. Simple Henna Mehndi
Whenever a joyful occasion comes up, don't you want to fill your hands with henna mehndi? Many girls like simple mehndi designs on their hands. These designs contain minimalistic styles and classic mehndi. You can opt for this type of design if you are more of a simple person.
4. Lotus Motif Mehndi Design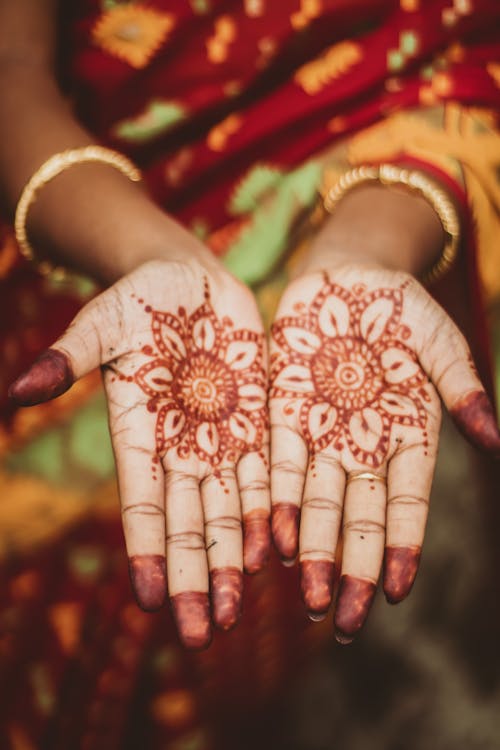 The lotus design is quite common in bridal henna mehndi. Creating unique but simple henna designs with lotuses looks fresh and attractive. You can choose this beautiful flower design for your mehndi on Eid occasion this year, and look great!   
5. Curved lines With Mehndi Motifs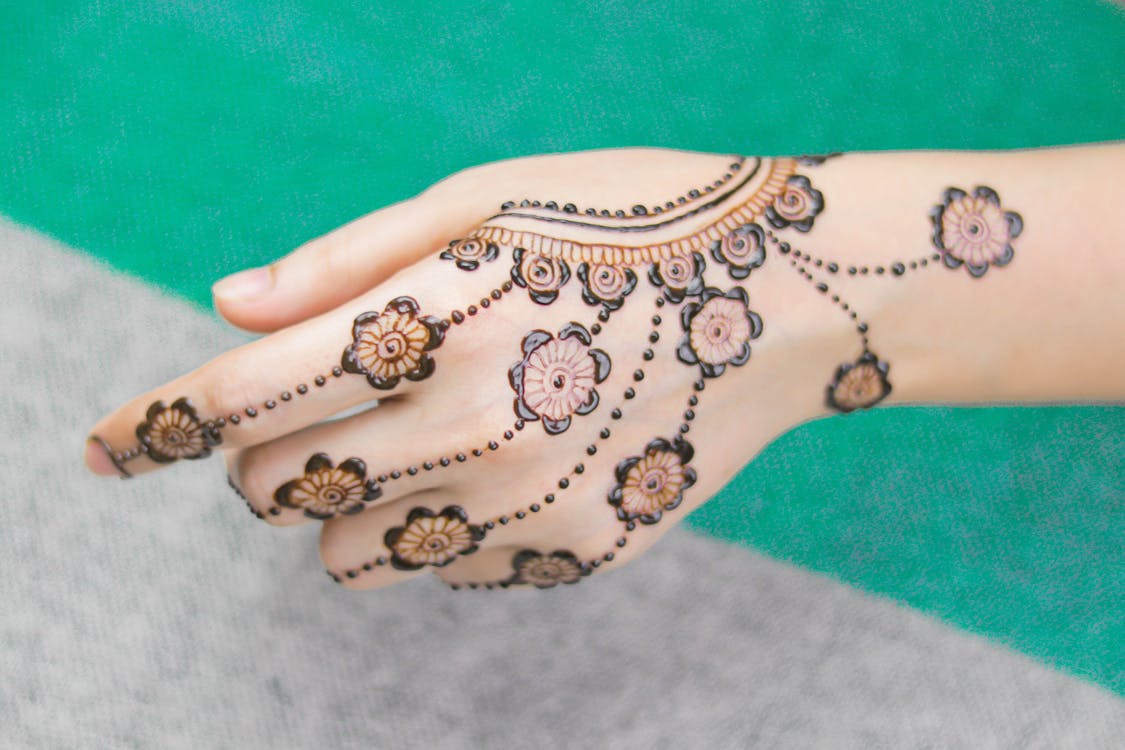 This henna mehndi design is one of the most common and lovely ones. Plus, it is easy enough to draw by yourself. So find a henna cone mehndi, and let curvy designs motivate you to create something stylish.
6. A Ditzy Henna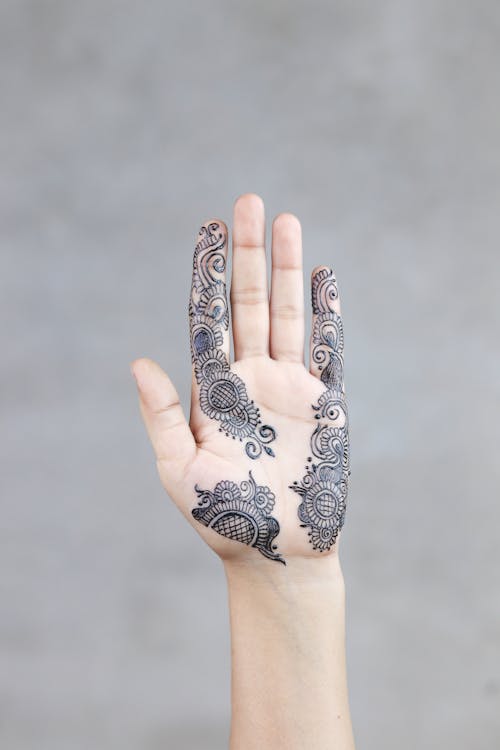 If you are an intricate mehndi design lover, beautiful ditsy pattern henna is something you'll adore. You can make dots and bracelet designs with your mehndi and turn them into something beautiful. So, go ahead and choose this stunning henna designs for Eid.
7. Tulip Pattern Mehndi Design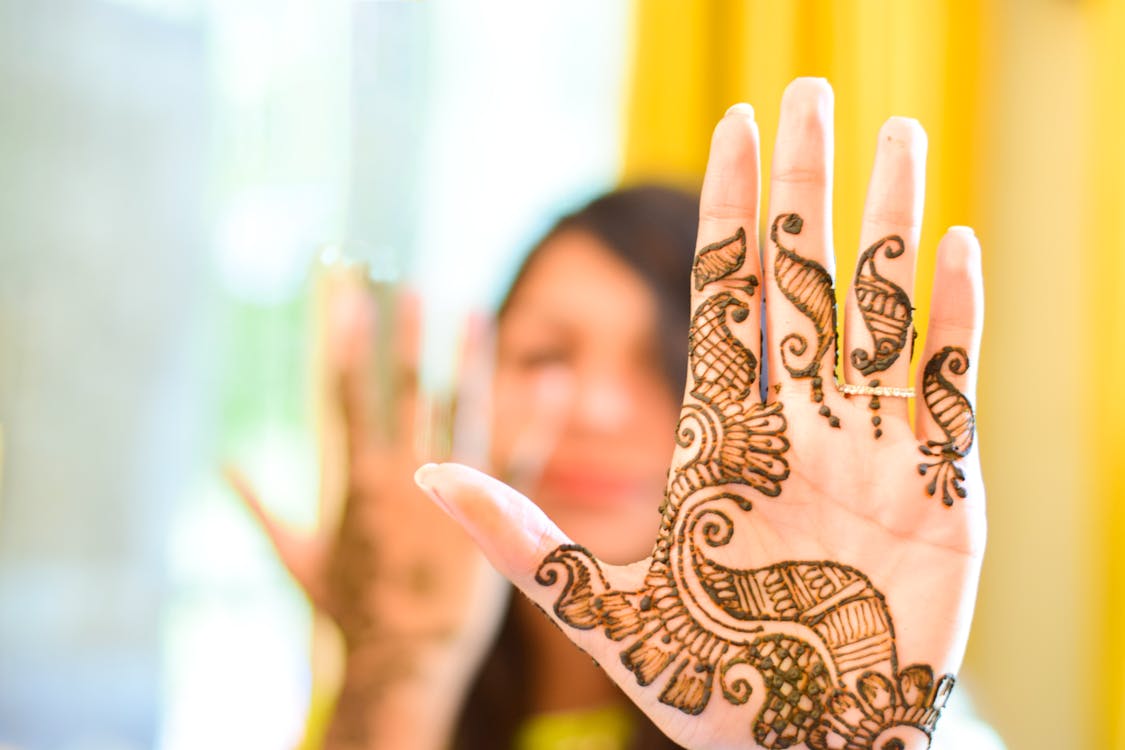 There's nothing more beautiful than traditional and old mehndi designs for girls. Another beautiful design that you can opt for this Eid is making tulips. To complement this design, you can make delicate patterns on fingers and convert them into a pretty classic style.         
8. Aztec Pattern Henna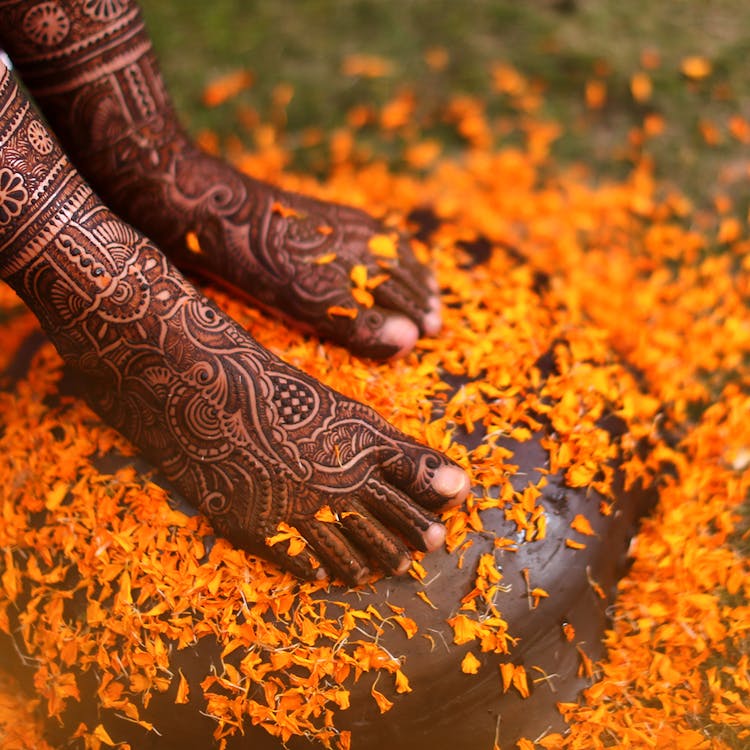 It is one of the best henna designs for Eid that you can go for. Pick something fresh, minimal, and gorgeous, and complement it with the Aztec patterns. These patterns consist of straight lines and linear motifs that make the simple henna designs stunning and attractive. You can also get this design on your feet. 
9. The Traditional Henna Mandala Design
These easy and unique henna designs give a contemporary twist to the classic mandala motif of henna mehndi. You can wear this if you want something traditional yet modern.
The mandala mehndi motifs are trendy for hands. However, they are less used on the feet. If you like henna designs on your feet, you can go for a mandala motif design for Eid. This design is best for you if you're a newlywed bride or love preparing for Eid.
10. The Peacock Feather Henna Mehndi Design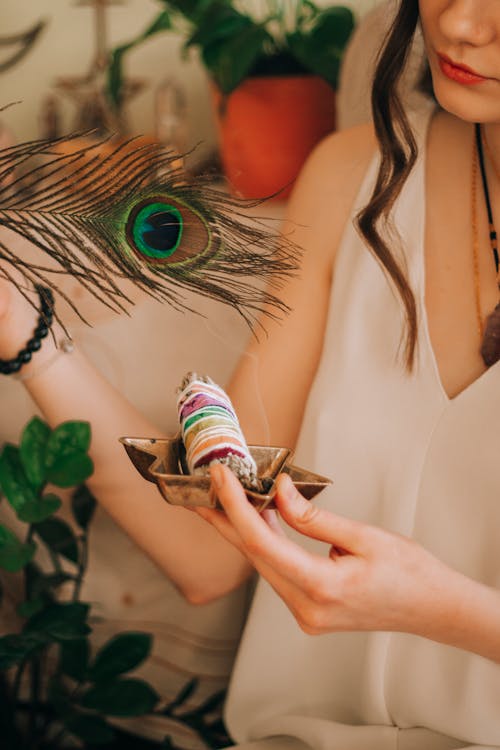 Do you fancy a beautiful peacock feather? If yes, why not get the same henna design on your forearm? It looks complex, beautiful, and entirely modern. So if you are into getting a modern mehndi design this Eid, this is the best one to pick.
11. 
Bold yet Minimalistic Henna Mehndi Design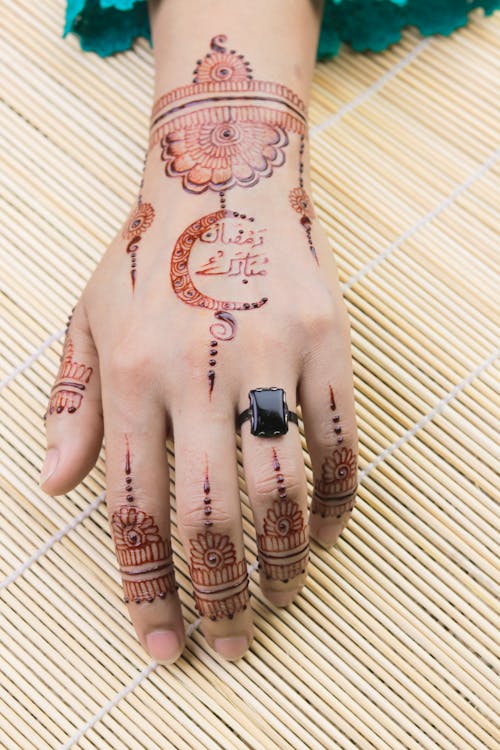 If you wish for a perfect mix of bold and minimal design for your henna, this Eid, this one is going to be your favorite. It contains filled mehndi shapes that make your design look bold. However, you can add simple dots, text, and curves around that to make it minimal. It is one of the most stunning henna designs that your friend can draw on your hand, and you can return the favor.
12. A Combination of Tattoos & Mehndi
Do you want to go big and bold for the Eid event? Take inspiration from a mehndi design, which is eye-catching, bold, and deeply inspired by permanent tattoo designs. It is one of the most delightful henna designs for girls because of the addition of tattoo designs.
13. Modern Glove Style Mehndi Design Eid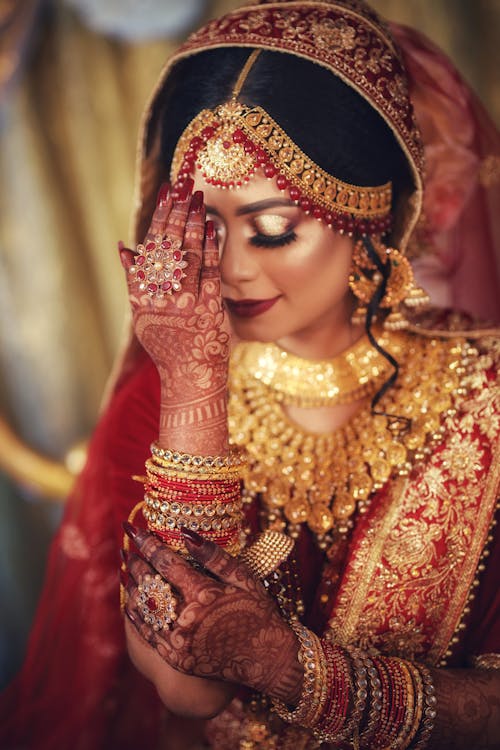 Glove style mehndi designs are a super hit trend that never goes out of fashion. These designs look classy, elegant, and trendy simultaneously. In this style, you can make mehndi designs in the form of a glove. Starting from the wrist and going to the fingers, filling it all and giving it a glove shape. This mehndi design will be a great choice if you plan to go to Eid parties and dinners.
We live in grey most of the time, but that does not mean your mehndi has to. You can include glam to your Eid look with these pleasant Mehndi Designs. So, if you ever feel like anything is missing in your life, you can go and have a beautiful mehndi session. Plenty of designs are available in your reach, so opt for any of them and enjoy the pleasure of henna this Eid.